November 25
@
8:00 pm
–
10:00 pm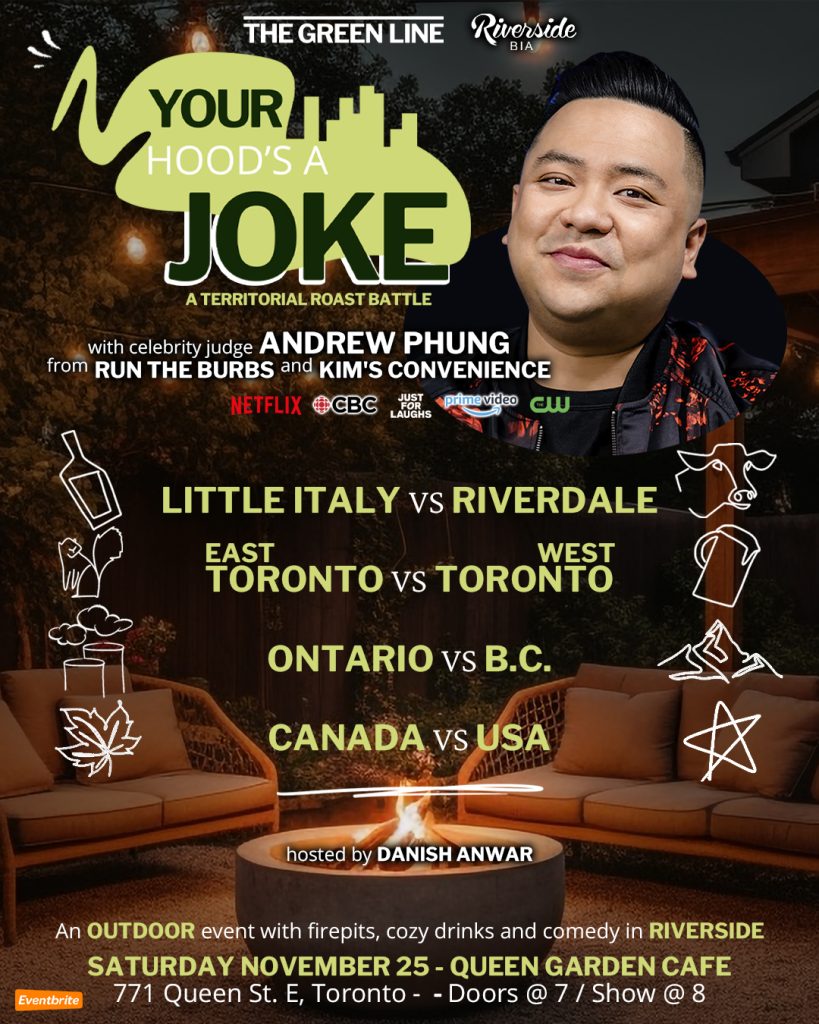 Kickstart your weekend with an unforgettable evening of comedy under the stars as 4x Canadian Screen Award Winner Andrew Phung (Run The Burbs, Kim's Convenience) joins the cast of internationally renowned roast battle show Your Hood's A Joke at the picturesque Queen Garden Centre in downtown Toronto, proudly presented by The Green Line, a new hyperlocal, community-driven news outlet, and the Riverside BIA.
An outdoor show with fire pits, cozy drinks and non stop laughs, this never-before-seen event is not to be missed!
What To Expect
Andrew Phung!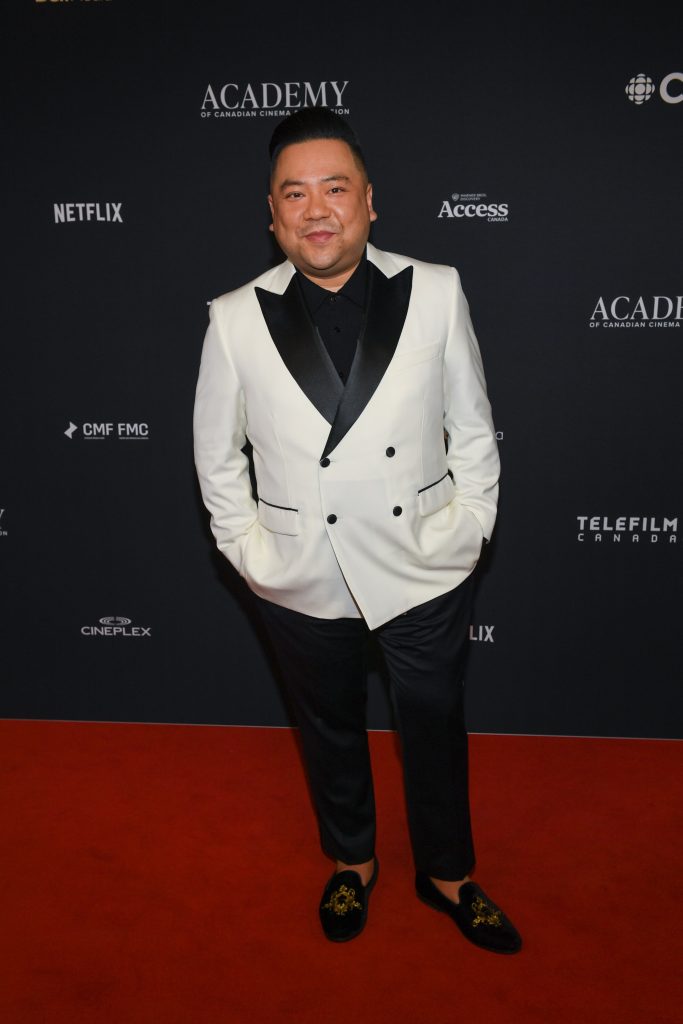 Catch 4-time Canadian Screen Award winner Andrew Phung, creator of the smash hit family sitcom Run The Burbs, which is currently filming its third season and was recently picked up for U.S. distribution on The CW. And who can forget his role as Kimchee Han in the iconic and globally popular Canadian TV show Kim's Convenience!
A multifaceted comedian excelling both on and off the camera, you won't want to miss Andrew's effortless charm and razor-sharp timing in person.
A Gorgeous Setting
A unique event like this could only be held at the picturesque Queen Garden Centre, famous for its outdoor café nestled in a greenhouse during the summer as well as fire pits + boozy drinks during the winter.
Grab a Bailey's with hot chocolate or the Queen Garden Cafe's signature Mulled Wine, sit around a cozy firepit, and enjoy a hilarious roast battle where winners and losers are picked by a panel of judges spearheaded by comedy star Andrew Phung.
Hilarious Comedy
Prepare for exciting matchups such as East Toronto vs. West Toronto, Little Italy vs. Riverdale, Ontario vs. B.C. and Canada vs. USA and support your favourite side in a deadly battle of educated wits on the global hit show Your Hood's A Joke!
If you haven't experienced its raucous sold-out atmosphere already, Your Hood's A Joke is a geographic roast battle between comedians representing their neighbourhoods, cities, colleges and countries, playing regularly to sold out audiences at iconic comedy clubs around the world.
Created in Toronto by Danish Anwar (CTV's Roast Battle Canada, CBC's Because News), Your Hood's A Joke quickly expanded worldwide to places like Tokyo Comedy Bar in Japan, where it's the most requested English language comedy show, the legendary Comedy Store in L.A., which featured Russell Peters headlining the inaugural event, and the Magners Comedy Festival in Bangkok, with expansions to Barcelona and Amsterdam coming in 2024.
Happy Hour Afterparty
Keep the vibes going because your event ticket comes with Happy Hour pricing all night at the cool Brickworks Ciderhouse next door, featuring Ciders, Beers and Cocktails for $6 and yummy snacks like Mac & Cheese, Poutine, Cauliflower Bites and Vegan Dumplings for $7.
Keep in mind that Your Hood's A Joke is known to sell out shows worldwide, so purchasing tickets in advance is highly recommended.
Due to the adult nature of the show, this is a 19+ event and viewer discretion is advised.
This one of a kind event is the brainchild of The Green Line and Toronto Comedy All Stars, and sponsored by the Riverside BIA.